Share this:





According to 11,625 consumers, this year's average holiday spend will be $936. That's up 4% from last year.
According to a smaller sample, here's the best holiday gift for the marketing, advertising, and branding folks on your lists. The book The Writing on the Wall: Rediscovering New York City's "Ghost Signs."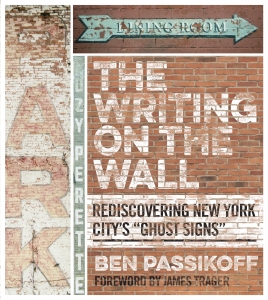 As marketing & branding marched digitally into the 21st century, NYC's "ghost signs" – advertisements actually painted on the sides of buildings, some dating back to the 19th century – have remained defiantly resolute, continuing to quietly advertise & market goods and services of all kinds, albeit some more useful in past centuries! Thanks to time, the environment, and gentrification these faded emblems of our rich advertising, economic, & social history are slowly disappearing before our eyes. But happily not before they were captured by a photographer's lens.
Full Disclosure: The author's name is not a coincidence. Ben is my son.
At the age of 16, he started roaming Manhattan with his camera to document these fascinating signs – hand-painted advertising and marketing messages that still adorned many buildings in New York City.
This updated photographic collection features signs painted in the 1800s as well as 21st century versions, and provides a rich and insightful commentary on modern advertising and marketing, and a visual roadmap of how brands got to where they are today.
This collection of vanishing ghost signs is now preserved in a photographic record that belongs in every marketers', adman/women's, and branding experts' personal libraries. You can order it ­– in old-school hardcover or new-school digital – in time for the holidays at these retailers:
Amazon, Barnes & Noble, Powell's Books, and Walmart.
Happy Holidays from Brand Keys (and one proud Papa)!
---
Find out more about what makes customer loyalty happen and how Brand Keys metrics is able to predict future consumer behavior: brandkeys.com. Visit our YouTube channel to learn more about Brand Keys methodology, applications and case studies.
Share this: