Measuring 21st Century Loyalty
Brand loyalty today is vastly different than brand loyalty of the last century.
Consumers are more sophisticated and born hotwired to smartphones connected to the internet. It's just like David Ogilvy warned, "Consumers don't think how they feel, they don't say what they think, and they don't do what they say." Only now it's worse. Many big consulting firms and university marketing departments use statistically reliable, yet loyalty-dyslexic systems to simply count things, and end up accumulating lists of what people say, but entirely miss what people really think, and ultimately what they will do.
When you're talking about measuring real brand loyalty, you're talking about something complex. Something emotionally-based. Measuring real emotions and emotional engagement requires methodologies that specifically target and capture them. That's what Brand Keys does.
Measuring Consumer Emotions
Based on a recent examination of nearly 100 industry sectors and 1,100+ B2C, B2B, and D2C brands, the  consumer decision process is decidedly more emotional than rational. Yes, rational matters, but "rational" is "table stakes" when it comes to today's marketing ventures.
This year the overall emotional-to-rational values ratio in the consumers' decision processes are 85:15. We can help brands identify what those emotions are, where they live in the customer's decision-process, and how to best leverage.
Measuring Customer Expectations
Consumers always expect more. Categories, by their very nature, are different, sure, but categories are not insulated from expectation inflation.
And expectations are like oil spills. They don't stay in one spot. They spread.  No category remains unaffected. Increased expectations seep from one category to another. But no matter the category, how well a brand is seen to meet those expectations always determines success or failure. And we can help there, especially in light of some expectation facts-of-life:
Consumer expectations increase each year – on average +27%.
Even the best of brands only manage to keep up by about 7%.
That leaves a huge gap between what consumers really desire and what they see your brand delivering.
We can help your brand understand how to best fill that gap because our assessments identify expectation changes 12 to 18 months before they show up on traditional research radar screens.
For a free analysis of how expectations have increased in your category, feel free to contact us.
The Ultimate Objective: Brand Engagement
Emotional brand engagement is the "glue" that keeps customers loyal. For marketing and advertising, there are ultimately four
methods of
engagement but only one engagement
objective.
There's a difference, and it looks like this:
Methods of Engagement
Platform, e.g., TV, Online, Print, Smartphone
Context, e.g., Program, Website, Magazine
Message, e.g., Ad, Communication, Social Networking
Experience, e.g., Store visit, Event, App
Objective of Engagement
Brand Engagement
For brand management, advertising and marketing – being businesses and not hobbies – engagement with the brand must be the ultimate objective. Our metrics can help you attain that objective.
Customer Loyalty Engagement Index (CLEI): What over 55,000 Customers Think About Your Brands
Every brand wants to be "customer-focused" and wants its research to always represents the "voice of the customer." It's a nice thought but in todays' socially-networked world sifting the signal from the noise often turns consumers' voices into whispers.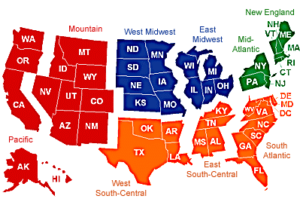 Annual survey (conducted since 1996)
110+ categories – 1,1022+ brands
60,000+ consumer interviews
Drawn from the 9 US Census regions
Male/ Female
16-65 YOA
40% phone interviews, 40% in-person, cellphone-only H/H, 20% online
Respondents self-classify for category and brand usage
Incorporates Media GPS to illuminate brand communication and advertising effects to loyalty
The Brand Keys Customer Loyalty Engagement Index® is an annual, syndicated survey conducted every January, which provides brands access to best practices and insights that amplifies the voice-of-the-customer.
Results from the CLEI, including your brand-specific performance metrics and those of your competitors, are available in reports customized from the perspective of your brand.
The CLEI fuses behavioral psychological brand evaluations and emotional engagement with the category Ideal and brands competing within the category with a higher-order statistical analyses of rational category attributes, benefits and values (ABVs) to identify the four key drivers of brand engagement and loyalty – your category's predictive path-to-purchase.
The 4-driver model delivers easily understandable and communicable brand analytics in an easy-to-read bar chart or quadrant map format.
It describes – via the four category drivers –  precisely how the consumer views your category, how they compare your brand to their perception of their unconstrained-by-reality "Ideal" brand in the category versus your competitors (vis-à-vis expectations they hold for each category driver), and how they will emotionally engage with your brand, buy, recommend, and remain loyal.
Individual driver diagnostics provides a deeper understanding of which attributes, benefits, and values form the emotional and rational components of each driver and what percent-contribution each ABV makes to engagement and loyalty.
Media GPS: Optimizing Your Marketing Investments
Brand Keys merged its independently validated emotional engagement metrics with a new best-in-class platform – Media GPS analytics – combining brand communication consumption and emotional engagement assessments. The process was developed by Brand Keys for The Advertising Research Foundation's seminal "How Advertising Works Today" initiative to identify the effects of cross-platform media consumption. Now brands can factor their advertising and marketing into the loyalty mix.
In the same way traditional GPS provides accurate determination of geographical locations, the new platform pinpoints the strategic intersection of brand engagement and media consumption. Doing that not only optimizes media planning but makes these loyalty assessments the most accurate in the marketing world.
Because consumers use all types of media differently – digital and traditional – how they use media will affect attention, engagement, and loyalty. This augmented approach recognizes that consumers engage with media differently, dependent on how they engage in a category. It enables brands to get very specific about messaging and very strategic about media placement
The Media GPS analysis identifies which loyalty drivers will be most influenced by one medium versus another. Additionally, the metrics provide the percent-contribution that each media platform makes to generating awareness, enhancing recall, creating brand engagement and, ultimately driving sales.
Adding Media GPS to your research or media planning toolbox allows brands to identify precisely where and how they can amplify engagement and loyalty along the path-to-purchase via marketing and communication efforts.
Brand Keys currently examines 22 media platforms to identify the best strategic allocation of marketing resources and accommodates drill-down into specific venues. Assessments identify where and to what extent one media platform will be more efficient than others in creating engagement and building loyalty, all based on consumers' actual exposure to and consumption of brand advertising and marketing.
These insights supercharge our already high-correlation-to-sales loyalty metrics (0.80+) and provide more robust media-to-loyalty insights.
Additional Loyalty & Emotional Engagement Applications
Clients have successfully applied our metrics to areas that do not strictly fall under the rubric of what drives customer loyalty including:
Developing customized brand knowledge
Predictively identify shifting category dynamics
Measuring real brand health
Developing loyalty-driven SWOT analyses
Serving as leading-indicator brand benchmarks for all research and marketing activities
Turning tracking into prediction
Amplifying marketing accountability and ROI
Calculating your brand's ROI as a parallel measure to your company's P/E ratio
Pinpointing new shopper insights
Differentiating their brand via optimized CX and UX
Conducting predictive concept, communications, and advertising testing
Amplifying ideation and innovation development
Identifying ROI-based marketing efforts, brand partnerships, and sponsorships
Developing and renewing Brand Architectures
What now?
The good news is that brand loyalty is logical and easily understood. The better news is loyalty and engagement can be quantified and predicted. The best news is real loyalty metrics correlate highly with consumer activity in the marketplace, sales, and profitability and can be easily integrated into your current research efforts.
Our Senior Consultants are always available to discuss your current brand research requirements, current brand rankings, insights, and trends from our Customer Loyalty Engagement Index, or information about integrating predictive loyalty, emotional engagement, or Media GPS into your marketing, research, and media efforts.