Share this:





A recent Brand Keys study measured "trust" among readers of their newspapers-of-choice.
Sure, ideology self-defines selection when it comes to subscribing to a newspaper (in print or digital), but "Trust" accounts for 41% of actual newspaper brand engagement.
The remaining 59% is accounted for by content and values addressing "entertainment listings and sports," "an ability to educate and inform via news reporting, columnists, and editorial," and providing insights into the "economy and local events and markets."
Three thousand eight hundred six (3,806) subscribers (hard copy) or "regular newsreaders" via digital or app (3+ times a week) evaluated their newspapers, with the following results: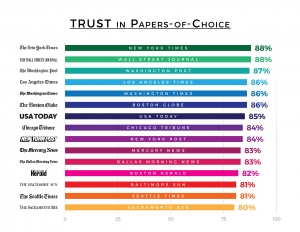 SIDEBAR: Since President Trump has labeled The New York Times as "failing," and virtually every other news platform as "fake news" and/or "enemy of the people," we also measured how much "trust" newspaper readers had in the President.
Mr. Trump was rated an overall 24% (five percentage points lower than TV news viewers, 64% lower than The New York Times or The Wall Street Journal).
Democratic newspaper readers rated Mr. Trump 9%, Independents 16%, and Republicans 29%. Eighteen percent (18%) of the sample had "No Opinion.
The next wave of the Brand Keys Media Trust Tracker will visit "Online" Platforms.
---
Find out more about what makes customer loyalty happen and how Brand Keys metrics is able to predict future consumer behavior: brandkeys.com. Visit our YouTube channel to learn more about Brand Keys methodology, applications and case studies.
Share this: