Share this: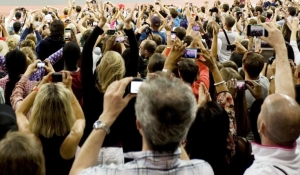 You can't have missed the fact that the big differentiator these days for smartphones has become the camera. Consumers have traded last-century digital compact cameras for smartphones. In fact, some of the smartphone ads and commercials focus more on the camera aspect of the smartphone than the smartphone itself.
For those of you who prefer a camera but want the convenience of something you can keep in your pocket, GoPro, the sports camera maker, has come up with a new crop of its Hero4 Session, weighing only 2.6 ounces, .9 ounces less than the next lightest model. For those of you looking for one-touch effortlessness photography, the Hero4 Session has one button to turn the camera on and begin recording. Oh, and it's waterproof so it doesn't need a separate waterproof case like most phones will no matter how smart they are.
That said, digital cameras of any size is a category we no longer track because, well, it's become hard to find new customers every year for our Customer Loyalty Engagement Index. Smartphones, on the other hand, is a different picture. For those of you about to snap over the overabundance of smartphone digital camera-specifications, here's some information to help you stay focused.
We did a drill-down in the Brand Keys 2015 Customer Loyalty Engagement Index smartphone category to see which model would-be Ansel Adams and Annie Leibovitz rated highest, that is to say, which best met their expectations when it came to the taking-pictures-value of their smartphones. Here's a snapshot of the category's top-10:
Samsung Galaxy S6
Apple iPhone 6+
Apple iPhone 6
Samsung S5
Motorola Moto X
LG G4
Google Nexus 6
Nokia Lumia 1520
Amazon Fire
HTC One M8
You don't need an 800 mm lens to see that in the near-term, digital cameras will remain an important differentiator and decision-value for the smartphone category. We've tracked the category since it entered the consumer marketplace in 1995, so feel free to check back with us and see what develops.
---
Find out more about what makes customer loyalty happen and how Brand Keys metrics is able to predict future consumer behavior: brandkeys.com. Visit our YouTube channel to learn more about Brand Keys methodology, applications and case studies.
Share this: