Share this: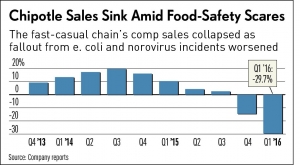 After a series of seven outbreaks of E. coli bacterium and salmonella-related illnesses, it can't have come as any surprise to anyone when Chipotle posted its first loss as a public company. They reported same-store sales fell almost 30%, with operating margins down nearly 75% during its first quarter.
It took Chipotle twenty-two years to transmute from burrito stand to $23 billion brand, so the brand has come a long way. They showed up on our Customer Loyalty Engagement Index (CLEI) radar screen 10 years ago and moved up the Fast Casual restaurant loyalty list to take the number one spot. Being #1 looked like their reserved table until the series of disease outbreaks and a loss of customer engagement moved them down the list. This January, customers relegated them to #6, in table terms someplace halfway between the banquette and the toilets in the Fast Casual restaurant space.
Unsurprisingly, the drop in CLEI ranking – accompanied by lower same-store sales and margins – would seem to be self-evident and inevitable. You can't reasonably offer consumers "quality," "freshly prepared food," and then have them get sick without expecting some repercussions! But sick as they might have been, when it comes to loyalty, engaged customers are six times more likely to give a brand the benefit of the doubt in adverse circumstances – like they did with the initial outbreak. And even the six that followed. But too many stomach bugs and bad news will ultimately be too much for customers (albeit engaged customers) to stomach. So the brand that started the "fresh movement," had to look for a fresh start for itself.
Chipotle added different safety programs and hired experts to make changes to its food preparation processes via central kitchens and their menus. They sanitized lettuce and tomatoes, which were then hermetically sealed and only then shipped to restaurants. Those changes, by their very nature, led to a decline in the promise of "fresh-prepared" quality. "Quality" it may well have been, but "fresh"? Not so much! So Chipotle switched they way they pre-prep some of the ingredients, including bell peppers, lettuce, tomatoes, and beef, so it can be prepped fresh in the restaurants. The brand developed new menu items and initiated a large-scale, free-food promotion. Starting fresh, indeed! So, the question is, are all these changes helping to make gains/re-gains on the brand's loyalty and engagement levels?
Look, because it doesn't hurt that loyal and engaged customers are six times more likely to see the actions being taken as responsible, brand value-enhancing, and, most-importantly, believable, theoretically all of this should be working to Chipotle's advantage. But, as Mark Twain declared, "How empty is theory in the presence of fact." So let's take a look at some updated facts about the category and the brand and see if the theory Chipotle cooked up paid off.
Nearly six months into their remedial programs, here's how the top half of Casual/Fast-Casual brands rank:
Panera
Shake Shack
Chipotle / Olive Garden
Schlotzsky's
Au Bon Pain
Texas Roadhouse
Denny's
Arby's
Chili's
IHOP
As these rankings always correlate very highly with consumer behavior, a move up the list by 3 spots is a pretty clear that consumers aren't questioning the brand's guiding principles and new techniques, which is good news for Chipotle.
And it can be even better news if they are able to follow that old Mexican proverb, "Si usted puede proporcionar a sus clientes con productos frescos y de buen sabor, y el alimento personalizado a un precio que no recibe los enferma, que ha muy probable se tiene un ganador!"(If you can provide your customers with fresh, good tasting, and customized food at a good price that doesn't get them sick, you've very likely got yourself a winner!)
---
Find out more about what makes customer loyalty happen and how Brand Keys metrics is able to predict future consumer behavior: brandkeys.com. Visit our YouTube channel to learn more about Brand Keys methodology, applications and case studies.
Share this: