Share this: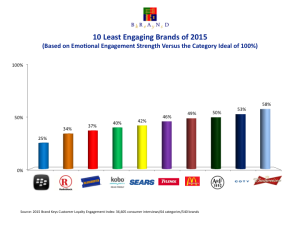 This past January Brand Keys announced the top brands that 36,605 US consumers found to be most emotionally engaging. That meant consumers saw those brands as best meeting their very high expectations. It also meant that those brands were going to very profitable, and included Dunkin', Hyundai, Apple, Netflix, AT&T, Amazon, Chipotle, and Discover. Unfortunately, as with all lists, there's a top and a bottom, and this week Brand Keys released the list of the 10 least-engaging brands of 2015.
This is the kind of list that you're going to find yourself looking at it, nodding your head, while a small voice whispers "Well, sure, I can see that,' or 'yeah, they really missed something there," or "they couldda been a contender if they just could have gotten someone to buy something. Or anything!" That's just the rational market effects making themselves felt. The brands just didn't do well.
The brands ended up on the bottom of their respective categories because they were unable to meet the very high emotional expectations consumers bring with them to the marketplace and the brand engagement process and, well, to every category. You can't hide those results. Sure, they show up in the marketplace and on profit-loss statements, but they also show up in how consumers see the brands and, more importantly, how they feel about the brands.
This year's 10 least-engaging brands included the following (in reverse order, beginning with the brand with the lowest emotional engagement strength, versus their Category's Ideal, calculated to be 100%. Brands that appeared on last year's list are noted along with additional, associated emotional disengagement showing up this year.
Blackberry (25%, down another 26% from 2014)
Radio Shack (34%)
Blockbuster On Demand (37%)
Kobo (40%)
Sears (42%, down another 22% from 2014)
Tylenol (46%)
McDonald's (49%)
Abercrombie & Fitch (50%)
Coty Cosmetics (53%, down another 18% from 2014)
Budweiser (58%)
Independent validations have proven that brands that better meet consumer expectations always win. They always see better consumer behavior toward the brand and should axiomatically result in greater sales and profits. But the reverse is equally true. Others lose badly. Nobody on the 'Least Engaging List" is making money or growing share or making profits or creating any reasonable level so emotional engagement with their customers, unless they're selling off assets – a short-term strategy at best!
There's a saying that goes, "losers make promises they break. Winners make commitments they keep," but when it comes to emotional engagement, it usually turns out that the losers don't really understand what promises to make!
---
Find out more about what makes customer loyalty happen and how Brand Keys metrics is able to predict future consumer behavior: brandkeys.com. Visit our YouTube channel to learn more about Brand Keys methodology, applications and case studies.
Share this: